Interviews
In the build-up to the big one against Brighton on Friday, FYP caught up with for Eagles legend Vince Hilaire, scorer of two against the Seagulls in a 3-1 win in the late 70s. He talks Zaha, Bolasie and playoff predictions...
He helped Palace demolish Brighton in the 70s and dazzled fans on the wing, and now Vince Hilaire is backing the Eagles to beat their rivals in the playoffs.
Ian Holloway's men face the Seagulls on Friday night in the semi-final first leg at Selhurst and despite going down 3-0 at the Amex two months ago, Vince is convinced Palace should be confident.
"Palace losing to Brighton 3-0 in March to me is no big deal because those things happen," he told FYP. "The playoffs, particularly in the Championship, are absolutely weird. Anything can happen.
"It wouldn't surprise me if the second leg goes to extra time or penalties because I think they are very evenly matched. When Brighton won 3-0 in March they were hitting form and Palace were at the bottom of their slump. It was bad timing.
"Also I think Palace just shade it when it comes to match winners. Brighton are probably a lot more steady which is unusual with someone like Poyet in charge but I'd rather have those players like Bolasie, Murray and Zaha that can make a difference in an evenly matched game than having average ones. 
"It's all about keeping it tight at the back and I hope Holloway starts with Bolasie because I am a fan of his. Brighton will be favourites so there isn't going to be the over confidence there might have been before.
"Palace showed great character in the Peterborough game after a dip in form, which will help. Hopefully it looks like they've got themselves back together again, every team has a run of bad form, they've had that and can kick on again now.
"If they hadn't won it would have been going into the game on the back of another draw so it's good to get confidence going."
And Vince puts Palace's downturn in form in part down to Wilfried Zaha's transfer to Manchester United in January.
He added: "As far as I'm concerned the downward turn was really after the Wilfried Zaha deal [to Manchester United]. I love Crystal Palace, and I'm sure he does too, but with the best will in the world, if you have a move to United looming on the horizon, I don't care who you are, you cannot be 100% focused on the club that you're basically on loan to.
"Especially when you are young, you can't help but think about what the future holds. You can't do it, you wouldn't be human!
"He was always going to go, and I think Palace should have had contingency plans for another couple of players in the pipeline. Take nothing away from Wilf, I think he will be great at Manchester United but I would have had a contingency plan and get someone who may not have been as good but would have been 100% focused and trying to impress the Palace fans.
"It looks like Wilf has got his mind back on it again though, maybe because it's the playoffs and it will hopefully be three big games and I think you will see the best of why United have bought Zaha. 
"With gifted players you have to take the rough with the smooth and hope they have more good days than bad days. What brought Zaha to the attention of the bigger clubs was that he was doing it week in week out, which is unusual for a wide player as skilful as he is."
But it's another Palace winger that Hilaire is backing to be a game changer in the two playoff semi-finals, despite an inconsistent run of late.
"Bolasie had a great start to the season but has proved my point about wide players, you've just got to hope you have more good days than bad days," said Vince. "With wide players you could be the best in the world - you could have Gareth Bale playing for Palace - but if your team hasn't got the ball you aren't going to notice him. 
"What I noticed when I was playing was if your team was playing badly and you'd get the ball nine times out of 10 moves and lose it three or four times, the fans would still be behind you because the other four or fives times you'd do something amazing. It would be a case of you've not been in the game for 10 minutes so as soon as you get the ball you've got to do something amazing.
"Therefore your heart rules your mind and you might take on one player too many you might try a shot from an outrageous angle because the team is not playing well and you think you've got to step up to the plate.
"But players are the best judges of players, you don't get three in the PFA Team of the Year if they can't play and football will always be a team game, no matter how good you are as an individual, and if a few of you are off the boil the team suffers. And I think Bolasie has suffered as a result of the team's poor form."
Back in the late 70s it was Hilaire who ran Brighton rugged, scoring twice at Selhurst in a 3-1 win, just as the rivalry was hotting up, and he believes it will add spice to what is already going to be two close games.
He said: "The rivalry certainly had an effect on the players when I was playing. When I was at clubs in the north people couldn't get their heads around the rivalry because geographically it doesn't look like one. 
"I was around really when it first reared its head, and it was entirely down to two ex-managers; Terry Venables and Alan Mullery. I listened to an interview with Mullery the other week and he said it was down to Venables and Macon Allison - he failed to mention himself! He was as much the instigator!
"We're talking about the game like fans and it's the team with the most players that understand that will win. I'm looking round at Palace and there's Speroni who's played in a few but otherwise how many are there who know what it means? I look at Brighton's team and they've got even less!
"Brighton will be favourites but I just got a sneaking feeling Zaha will prove why Manchester United signed him. And Murray, its sods law he will get back to scoring ways against his old team. 
"I like him, he leads the play well. He isn't someone who will beat five players but he will score goals. He relies on good service, and that's why you need those players who supply that service, Zaha and Bolasie, on form. And the great thing about Ian Holloway, he has been there and done it when it comes to the playoffs. 
"The one thing I love about about the playoffs even if you don't win at home in the first leg, you've always got a chance, so I wouldn't despair. Anything can happen and Palace are good on the break and will definitely score in both legs. Holloway has been there and done it, Poyet is a good manager but hasn't been in this position before."
---
Former Palace striker Leon McKenzie is now devoting his time to fighting depression in sport, and has released a book detailing the struggles he faced. A year to the day that football lost the popular Gary Speed to depression, Leon talks to FYP's Rob Sutherland about his troubles, and his time at Selhurst.
Leon McKenzie isn't your typical football player. The professional game is one in which openness is often frowned upon, in which being honest is considered a weakness. It's a sport where bravado is preferred over fragility – an intense environment in which depression can thrive. McKenzie has seen just how dangerous the grip of depression can be – the former Crystal Palace trainee attempted suicide in the later stages of his career; repeated injuries, financial difficulties and life's stresses becoming too much for him.
Few will openly speak about depression or failed suicide attempts, but in his book released this week, Leon opens himself up to the struggles that a footballer can fall victim to. In this interview with Five Year Plan, McKenzie discusses his six years at Palace – from the highs of promotion to the lows of administration – and provides some insight into his future plans.
You've praised Steve Coppell in your book – what made him such a good person to work for?
It was his way in managing people – he was humble in his approach and man management. It was his way of dealing with certain things, how he addressed me as a kid coming through. He saw something in me that he saw in others that he worked with. He took time after I finished training with him he'd ask me to practice more with him; he didn't have to do that. I really appreciated him as a man and appreciated him signing me professionally. He gave me a chance and believed in me – he gave me a lot of confidence.
He's not a shouter and screamer, is he?
He's a very intelligent man. I don't think you need to shout and scream to get your point across to players. Sometimes it might have been needed, but he was just at a different level to get his point across. He preferred to be a one-on-one manager to try and convince you; you'd take away something from that. He motivated me more when he pulled me aside individually.
Was it a shock when Simon Jordan replaced Steve Coppell with Alan Smith?
The first thing we heard when Simon decided to bring in Alan Smith was that he wanted change. Jordan had a lot of influence over Smith at that time. I was just a kid at the time but I was one of Steve Coppell's boys so it was surprising.
You wrote at length about Alan Smith in your book. You didn't see eye-to-eye with him?
I didn't appreciate the way he treated me at the end of my time at Palace, it really upset me. I was still very young but he wanted to transfer me out for £25,000 and it was quite a shock; I could have gone somewhere for a little bit more than that. I believed that the fee should have been more for Palace, especially if you look at how I went on to play top level football anyway.
In the book, you mention that he wasn't very hands-on?
It's the way a manager treats you personally that can be difficult. It's football though. You can have one man dictate your future because he doesn't like you – that can become a problem. For me, I wasn't really thinking about Crystal Palace – it was my career that he made a decision on. Things could have gone a lot better than they did.
Being forced out of the club after you'd worked through administration must have been difficult?
I went about four months without getting paid – the only person who was keeping me going on was Steve Coppell. He would say he was sorry at what was going on, that we didn't have to play but that it would mean a lot if we did. He made the difference then.
How did you make ends meet during that time?
I had my fair share of difficulty – I just had my first kid. I had my family supporting me at times and I took out lots of money from my overdraft. I wasn't on the biggest wages at Palace anyway. Money was never the main focus for me though.
Do you think young players nowadays see it that way?
It's different for kids nowadays. When I signed professionally for Crystal Palace it was just 'wow!,  £250 pounds a week and they want me to play football!' As time went on I wanted to get a better contract but I've never been a greedy footballer.
You played with some good players during your spell at Palace. Who were your favourites?
I loved working with Dougie Freedman. He had great ability and I always knew he wanted to be a coach – he would talk to me in training and would give me great confidence. He was a very clever player. Atilio Lombardo was another fantastic professional. There were a few people there that I enjoyed playing with.
You won a Coca-Cola bicycle for a Man of the Match performance in your debut for the club – what did you do with it?
I think I gave it to charity. It was a weird Man of the Match award – I wasn't going to start riding it around Crystal Palace [laughs] – it was a great gesture but perhaps it was because I was so young. They couldn't give me a car so decided instead to give me a bike!
You were voted into Peterborough United's hall of fame a few weeks ago and got to see Palace play too – what did you think of Wilfried Zaha?
It was a pleasure watching him. He's got amazing ability when running with the ball and his skill is on another level. He's a fit lad as well and he's playing with confidence. He clearly doesn't like a whack – so that something he'll need to get used to, but he's just a kid. He's in the best hands with Ian Holloway to guide him though. He should stay with Palace another season to keep growing.
You have been vocal about your depression – when did you realise that there was a problem?
I didn't say much for a good few years. The problem with depression is that it just snowballs. It goes from something simple into a much bigger issue – until you find yourself in a situation where you don't want to be here anymore. That was for many different reasons.
It is a year to the day that football lost Gary Speed? Does the game do enough to support players?
Not at this moment in time. It's getting better but it's one of the things I'm working on to raise awareness and keep pushing. We have to push help into the clubs. It's about getting support from clubs and about managers peaking openly about issues. There are a big percentage of players who are really suffering. Clubs have physiotherapists and doctors at clubs – perhaps it's time they also had psychotherapists too.
Do you see yourself working in football in the future?
I'm working towards getting some qualification to help players. Obviously you can't just use life experiences but you have to have some qualifications. I have to talk to the PFA about that. We don't want to see players suffering or taking their lives – we want to make them aware that they have more help available than they think.
To be in with a chance of winning a signed copy of Leon's book answer this question: against whom did Leon score to win the bicycle? Email your answer to This email address is being protected from spambots. You need JavaScript enabled to view it. . Entry closes at 5pm on Friday November 30th.
Leon McKenzie's book, My Fight with Life, is available to pre-order from McAnthony Media, for £7.99 with a release date of 29th of November, 2012. Pre-order a copy HERE.
Follow Leon on Twitter HERE.
---
He's most famous for flopping onto his belly when he scores goals, but at Palace Shefki Kuqi was mostly remembered for just being a bit of a flop.
FYP editor James Daly caught up with the big man while he was in London looking for a new club, to chat about his memories of playing for the Eagles.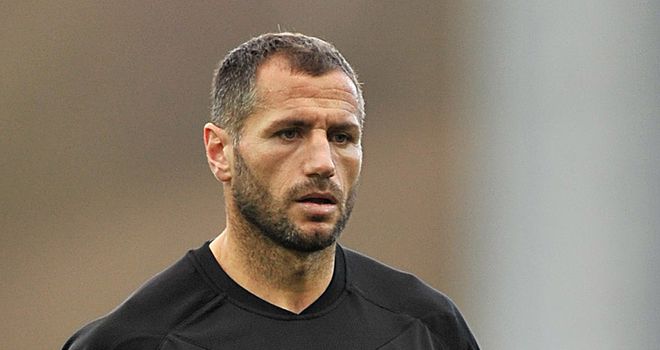 FYP: Firstly, thanks for not flipping us off just now. But that moment, against Wovles a few years ago, certainly tainted your reputation with Palace fans.
Shefki Kuqi: I did that [gesture] to the fans but I didn't really realise like I said [at the time] and I apologised to everybody. The gaffer [Warnock] said to me after the game and I was a little bit like 'what are you talking about?' and didn't realised what I'd done. But I managed to turn things around the fans accepted that and I just got on with it.
FYP: Well yes, but after some time. You were told to go home weren't you? That's tough to take.
SK: It depends how you take things, I thought the gaffer was a little bit harsh, because at first he told me everything was fine, the next day [changed his mind] but that's football. The first four games or something I wasn't allowed to train with the team and then we drew one and lost three. We couldn't score a goal, that opened the back door for me, it was a turning point.
FYP: Well yeah you came back in, mainly cos our other forwards were useless, and scored quite a few.
SK: After that spell when I was out of the team and then the gaffer told me to go home I came back and I think I scored three or four goals in the first two or three games and everything turned around.
FYP: Do you understand the fans' anger toward you at the time?
SK: As a fan sometimes things go wrong and you're going to be disappointed, as a player on the pitch sometimes when things don't go right you're more angry with yourself than everybody else. Then somebody says some things and just in that moment maybe you react in the wrong way but that's the way sometimes it goes. Lots of other things have happened in my life outside of football so you have to be able to deal with that. I always said that football has been to a kind of pleasurable pressure, if that makes sense. Not like I cannot handle this, I knew I could.
FYP: Ooh, you're a pressure junkie. Do you thrive on it?
SK: Yeah, that's the thing, when I've been in a couple of places where fans have booed, it has given me more motivation [to succeed].
FYP: Speaking of pressure, Simon Jordan released his book recently. What's your opinion of him?
SK: I saw him a few times when I was there and sometimes I felt sorry for him because you walk through that door and you think some of the people 'do they care that much?' I think some were just happy to get paid, on the other hand I think as chairman he could have done a little bit more, people didn't see him enough, and he took his eye off things a little bit.
FYP: Well, yes, quite. And now he's broke. Was it his own fault?
SK: It's hard to understand because he put so much money in at end of the day. He had people there trying to do a job for him, trying to run the club and if they don't well it creates problems. Nowadays everyone understands how things went [for Jordan] and football is a big business now. No longer do people just play and love it because of their passion, now it's more or less a business. If you don't run it properly, you pay big money and if you cant use that you're gonna struggle. It depends how you do it, if you've got that academy you can go and try and invest more in that to get players through to the first-team, sell them on and you're gonna make some money.
FYP: You must have seen some of those lads come through while you were at Palace.
SK: Yeah, Clyney was just coming through and Victor Moses was there as well. Nowadays there is loads of talent but there is a big question about their attitudes and their heads because most of them have got everything a player needs but they think they're millionaires before they even get into the first-team.
FYP: Oh really? Did you think that of any of the Palace youngsters?
SK: Well, Moses for me he had everything but I think he was a little bit lazy, he didn't look like he took things seriously. Sometimes he was just happy to do what we did in training and that was it. You never saw him do anything extra. But he was as strong as anybody, even though he was so young. He just hated the gym, he was one of the last to come in and first to leave. But he's done really well and I'm pleased for him.
FYP: What about Dougie? Did he strike you as management material?
SK: Yes, definitely. He was a very, very intelligent player and he was the one who was doing his stuff right; going in the gym, he really looked after himself well. He was very disciplined and as soon as he got the job I knew what he was capable of because discipline was everything about him. He's got that transferred to a manager role well. Loads of people say you change when they go from being a player to a manager but I think Dougie's done really well. He's transferred himself from being a player to a manager and I think Palace had a great season last season. They are disciplined and have got their own ideas and know what they want to do and they can definitely achieve things [this season].
FYP: Palace are struggling now but do you think they can turn it around?
SK: I think so. I trained with them last season at the beginning of the season because I didn't have a contract. I trained and I saw what they are doing and as long as the players have that in their head when they go on the pitch [they'll do well]. Palace are taking big steps forward at the moment.
FYP: Ooh good stuff! Finally, what's your celebration all about?
SK: (laughs) Oh I don't know really! It's just that moment when you score a goal, I've done loads of different things before. Sometimes you do stupid things and you don't even know what it's all about but it's just the moment. Mine seems to be quite popular, it is special the way I go quite high I guess.
FYP: Does it hurt?
SK: Nah, not really. I wouldn't do it it if hurt me!
Follow James and FYP on Twitter.
---
This interview appeared in FYP issue 28 - October 2011
Moving to a new country is always hard and there are lots of things to miss; your family, your friends, your pets. But for young Mexican Antonio Pedroza it was something else. "I love the Mexican food and I miss it a lot. It's one of the biggest changes," says the 20-year-old. The striker is half English having been born and brought up in Chester before moving to central America aged two and as well as having dual nationality, has fondess for both countries. "I feel part of them both and they're both important to me. Mexico was where I grew up, where all of my friends are and my family but I was born here and I love it here too."
Fellow South American Julian Speroni also knows of the pains of leaving his homeland - in his case Argentina - at a young age to try and make it as a footballer in Europe. He moved to Scotland to play for Dundee in 2001.
"It was by pure chance really," he says. "I had an agent working for me who had sent out some videos and the Dundee manager at this time, Ivano Bonetti, watched the video with his goalkeeping coach and decided to ring me and ask if I fancied coming to play in Scotland. For me, it was an amazing opportunity at 20 or 21 years old but people had doubts, was it too early? Usually people play in their own country for a time and a few years later they go to Europe but for me it was very different, very early."
But he took the leap and Palace fans will forever be thankful for that as he moved to Selhurst Park three years later and hasn't looked back. Well, apart from missing the food also. "Fortunately there is a good Argentine restaurant nearby where I go when I want nice meat," he says with relief.
Jules was the same age as Pedroza when he made the plunge to move thousands of miles from home, but moving to a team that at the time were full of South Americans helped.
"It was cold, and it rained but I really enjoyed it. In fact, having lots of Argentines playing [at Palace] helped me, especially as it was the first time I'd left my country to play somewhere else. Originally I came solo, after a few months my girlfriend [now wife] came – once I'd sorted a house and stuff."
And after moving to the Eagles in 2004 Speroni had to wait almost three years for a proper run in the team, a chance he has not let slip since and has gone on to win the Player of the Year a record three years in a row. But there were times when he considered his future at Palace.
"It was in the back of my mind, thinking about finding another club where I'd get an opportunity," he admits. "But I knew that one would come here eventually and that I could play and therefore I decided to stay and wait for my chance. With regards to the Premier League, we didn't start well as a team and after a couple of mistakes the manager decided to change things. [No.1 choice at the time Gabor] Kiraly is a player with international and continental experience, an excellent player and also an excellent person. I have only the best memories of him."
And that patience is something young Pedroza could take note of. The striker hasn't featured in the first team yet despite joining in the summer after impressing on trial and in some of the pre-season games.
"I think it's because of the change of country, culture and football,"?Pedroza says. "At the same time, the intensity is such that maybe I need time to adapt to how they play here, and there have been a few little injuries [for me] but I hope I can realise my dream and appear for the first team soon.
"The truth is that it's been very difficult because of, more than anything, the way the game is played is very different. There is more intensity, the training here is much quicker, everything about the game here is much quicker. The truth is that I didn't expect it to be so fast but these are things that you just have to adapt to. I'm trying to live with the changes.
"My weakness is I'm tiny! But I don't consider it a huge weakness to be honest, I'm small but it gives me great mobility, so I'm not bothered. As far as strengths go, it probably is my mobility and movement in the box. As you see with [Manchester United striker and fellow Mexican] Chicharito, he is not so tall or strong but he always finds space in the area."
In fact Pedroza has been compared to the United star but he brushes off such suggestions with an embarrased swipe of the hand.
"Nooo! The truth is I would never compare myself to him. The fact is we're completely different players, but at the same time I'm honoured because any comparison with Hernandez is good, of course. To have him as a symbol is excellent, he is a player who has played at World Cups and scored lots of goals in England so I would love to be able to do the same!
"I've always, always wanted to play like Michael Owen, he was my ultimate reference point. But for me, the best player ever must be Ronaldo," he says puffing his cheeks and laughing, "the fat one. I don't think I've ever seen a player with these technical qualities, truly impressive."
But before he can begin to try and emulate Big Ronny's achievments, Pedroza needs some games in the Palace first team, and while they have been hard to come by, he has no grudges towards manager Dougie Freedman. "Yes, he's very open. The truth is you can talk to him about anything and he will be there for whatever question you have, it's another reason why I'm very happy here.  It's a wonderful club with a great coach who is very attentive to his players, truthfully my team-mates are fantastic and I'm already very content."
Speroni, meanwhile, has had to adapt the way he talks to Freedman, having been his team-mate at Palace for six years before the Scot was given the manager's job at SE25.
"It feels a bit strange, calling him 'gaffer' or 'boss', but you get used to it. No longer is he my team-mate, but my manager and one has to listen to him now," says Speroni, who believes the Doog was always likely to end up in the dugout.
"Yes, he always had the characteristics to become a manager, he understands the game, he gives orders, he communicates well, I always saw this in him, and the opportunity presented itself to him early!"
And opportunities don't come along often. Speroni is often lauded as the best Argentinian keeper never to have represented his national side but he says he does not regret staying at Palace despite offers to go to bigger teams.
"It's a dream I've always had, to play for Argentina, but I know it will be difficult playing in the Championship, you have to be playing in the Premier League. I'll always keep dreaming though. I don't know. I'd love to get a chance, one chance so they could see."
But there are perks by staying at Palace - besides the cheerleaders. Three POTY awards makes Jules a record breaker, something he still can't quite comprehend.
"Sincerely, I find it hard to believe," he adds. "It's not normal to stay at a club so long these days, generally people change clubs all the time. To have arrived at this point is amazing for me, the people I've met, the fans, the people at the club, the owners, it's amazing and I feel proud of everything I can achieve here. "
And with awards like that comes great responsibility, like the chance to help a fellow young South American.
"The truth is that  Julian has helped me loads," says Pedroza. "Sometimes when I don't have a way to get anywhere, or I have to go somewhere far away, Julian sorts me out and he helps me with my English too, which is improving little by little."
While the past for both is similar, the futures for both could not be more polarised; Speroni is eyeing the end of his career while Pedroza is ready to kick on.
"Currently, I have two and a half years left on my contract, my son is starting pre-school but we have family in Argentina… the family is something that we miss a lot," Speroni admits, while Pedroza is buzzing about the future.
"I have other dreams and there's no time for regrets," he says. "Now I'm at Crystal Palace and they're doing very well!"
---
This interview appeared in FYP issue 28 - October 2011
Life is cheery for Bronia Gosling, the Crystals' new(ish) captain, and it's a new responsibility she's taken on with relish.
"I'm loving it. I've really had the chance to sink my teeth into it and get everyone going. We've banded into a good group, it's a really lovely bunch of girls," said the 27-year-old professional dancer and dance teacher.
"We all went out together to Tiger Tiger when some of the new girls joined. Going out together really cemented the girls together. We've got a strong bond."
Raising morale and keeping people entertained is a cheerleader's job if it's anyone's, so it's no surprise then to find that Miss Gosling promotes this amongst her girls with copious amounts of tomfoolery to be found on the training ground and *gulp* in the dressing room.
"The funnier stuff happens after training. I laughed for a whole hour the other week. Claire, Nina and Laura – those three together is a recipe for a giggle!"
But of course they're not just there to keep themselves entertained; it's ALL about the fans.
"We love the fans! Interacting through Twitter and getting the fans compliments and suggestions is brilliant. All of the support we've had has been fantastic and we'd just like to say thank you very much to all the fans!"
Since we're treated to seeing her on the pitch of a chilly Saturday afternoon – or even chillier Tuesday evening – we've become accustomed to the red and blue cheer that Bronia, along with her girls, spreads about Selhurst; so it may surprise some that the club's new leading lady is a recent Palace convert.
"I've been a football fan since I was about three or four, but I didn't follow Palace before I became a Crystal, and now I'm obsessed! I've got a picture of Paddy on my wall and I've got my kit."
As fellow captains, Bronia and McCarthy may have more in common than you'd think – of course one looks far better than the other waving pom-poms.
"Paddy is  an outstanding captain. He really picks the players up if they're down, he's the last line of defence before Jules and he supports everyone – I think that's really admirable."
(Photo by Mark Green)
---
This interview appeared in FYP issue 27 - December 2011
There are some players who thrive on pressure, there are some who can't handle it, and then there are some like Bruce Dyer who barely even notice it.
Dyer was just 19 when he moved from Watford to Place for £1.1m - making him the first ever teenager to be bought for more than a million pounds. But the confident young striker just took it all in his stride and despite having a career that was sometimes trying, is now finding a new lease of life.
FYP sat down with Bruce to talk about his time at Palace.
FPY: So, one million smackeroonies eh? After inflation that's like a gazillion trillion pounds in today's money terms. Were you not even a little bit scared?
BD: Not really. I was a young kid, I was pretty confident and I just enjoyed playing football so when the move came about for me it wasn't a pressure thing it was actually a chance to realise my dream of playing in the Premiership. It was a really exciting time for me and my family. I wasn't really even thinking about the fee, I was more thinking about the football and the possibility of me getting into the Premiership, that's what was really driving me.
Well and the chance to show off that cool slanted high top fade you were sporting at the time. How much did you know about Palace before you joined?
All I could remember was that Ian Wright and Mark Bright played for them, I remember watching The Big Match on Sundays as I was growing up. Wrighty was one of my heroes and also in my career and you always associate Palace with Ian Wright.
He never had a high top fade though. You joined at a great time, Alan Smith's team were about to be Division One champions and had some class players. Was it easy to fit in?
Yeah definitely, in my career that's definitely up there in terms of enjoyment; the training, the banter with the lads, it was a good time. There was some characters, Chris Coleman was a character in the dressing room I can tell you.
But you didn't feature much that season.
I never let things like that phase me, you just get on with it. My mindset was always to be the best professional you can be and once you're doing all you can to that's all you can do. Obviously it can get a bit discouraging but you've just got to keep going. At the time we weren't doing great and Alan Smith brought in [hypnotist] Paul Mckenna but if I'm honest I'm not into all that palaver. It was a funny season, I didn't feature that much which I was a bit disappointed with, as I remember I had a really good Under-21 tournament in Toulan, which we won and where I finished top goalscorer, but at Palace I just didn't get a look in.
But the next time Palace went up in 1997 you were top scorer and played with Attilio freaking Lombardo. What was that like?
He was just a great professional. Just his humility - he was a really, really nice guy and such a good player. I remember as a kid watching him at Juve so to train and play with him was great, you could see there was something different about him. There were other greats too - Chris Armstrong, he was special at Palace; Dougie, Shipps, Coleman was a rock at the back, Nigel Martyn; there's so many players! Honestly when I look back over the years at the players that I was privileged to play with - there was some great players there.
Speaking of Dougie, he's now gaffer at Palace and doing rather well. Did you see that one coming?
No I didn't if I'll be honest, I really didn't. I'm surprised. I wouldn't have called that one. There's some you can call and I wouldn't have called Chris Coleman being a manager either, cos he was too much of a joker. Likewise with Dougie I just wouldn't have called it, but he's doing really well, it's good to see and I wish Dougie all the best.
And how do you see Palace at the moment? On the up?
For me it's all about survival at the minute and getting a bit of stability. Palace has always been a yo-yo club, Premiership, Championship, Premiership again. So if they can just ride the storm, get a bit of stability they'll be ok. Palace is known for always getting good youth coming through so it wouldn't surprise me at all if one day you see Palace again in the Premiership. Palace fans have been good to me, on Twitter I get tweets from a lot of Palace fans and they've always been good to me - I'm grateful. Even from my toughest times, I'd like to think they were pretty patient with me and I think overall I did ok for Palace. There's been a few clubs I've been at that have been landmarks in my career that I can never forget and Palace is definitely one of them.
And just like Palace have got themselves back together again, you're helping people with Love Life UK.
It's been really, really good, it's been life changing for me especially working in the prisons. It's really captivated my heart, and by the grace of God hopefully making a difference to someone's life.  It's more special to me than playing football.
For more info on Love Live UK visit www.lovelifeuk.org.
---